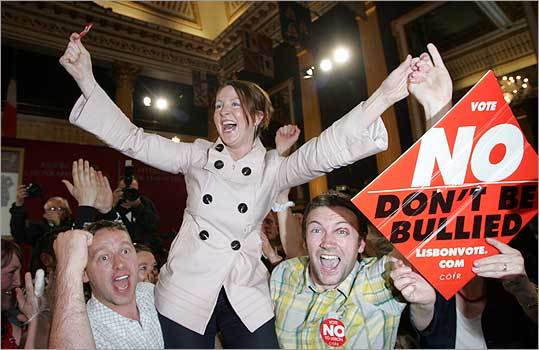 What is it about Europeans that makes them blind to the fact that they live on one continent, or at least one sub-continent with common cultural furniture?
To an American, if you fly east across the Atlantic, you inevitably reach one of two landmasses, Europe, with its medieval architecture and fondness for electronic music, or Africa, with its post-colonial blood feuds and civil wars.
But in the eyes of some Europeans, Europe is anywhere else but here. Here's a quote from an Irishman who
voted no
on the Lisbon Treaty last week:
"You know, I love traveling through Europe, but I don't really want to live there all the time. I'd like to stay as close to America as Europe."
Except it's 3,000 miles from Ireland to the US, my dear euroskeptic Irishman, and less than 300 miles from Ireland to France. That means that you really are closer to Europe than the US. You can't be as close to America as to Europe because it is actually farther away.
Here's another gem from one of our Western European friends, this time a Spaniard:
"Spaniards feel Spanish, the French feel French, and the Dutch feel Dutch. We will never all be in the same boat."
Except Spaniards don't feel Spanish anymore, do they? They feel Galician and Catalan. They feel Basque, just like the Basques in France. And do the Belgians really feel Belgian? Or do some feel more Flemish than Belgian? Remind the EU not to include the word "feel" in the next version of the constitutional treaty they cook up.
There are a few other reasons why I am mad at Ireland this weekend. One is that they have proven that humans are indeed a cynical species. Humans just take take take, and they don't reciprocate. Common currency? Oh, I'll have that. Structural funds? Yes, please. Publishing EU documents in Irish to make you feel good? Naturally. Treaty that civil servants slaved over and nearly all political parties endorse? No to you, EU! We are suffering from Eurofatigue, I mean ...
look at all the immigrants
. That's another rich one from the Emerald Isle. Immigration fatigue. This from the country that sent its people around the world by the boatload to colonize other countries, one pub at a time.
But, I digress. Estonia is guilty of this way of thinking, too. I once told a woman that I was headed to Poland (the trip was canceled in the end, but never mind). "Oh," she said. "You're going to Europe." "But I am in Europe," I insisted. "Not really," she replied.
On another occasion, a gentleman came back from skiing in the French Alps. "I just got back from Europe," he said. "Dude," I pulled him aside. "We
are
in Europe. Estonia is part of Europe." "Sort of," he agreed, "but we are more on the edge of it." Right. Roman alphabet. Lutheran churches. Blond people named Katrin and Karl. EU Member State. Not exactly Europe.
In instances like these, I'd like to know exactly where this mysterious Europe is. Some represent it as the mountain villas of France. Others see it as the murky canals of Amsterdam. And still others think of it as a leaning tower somewhere in northern Italy.
Wherever Europe is, people sure like its valuable money and its passport-free travel. But, for whatever reason, they don't take kindly to its treaties. Maybe the treaties would finally pass if Brussels let the Europeans vote on them, rather than those pesky Irish, French, and Dutch instead.