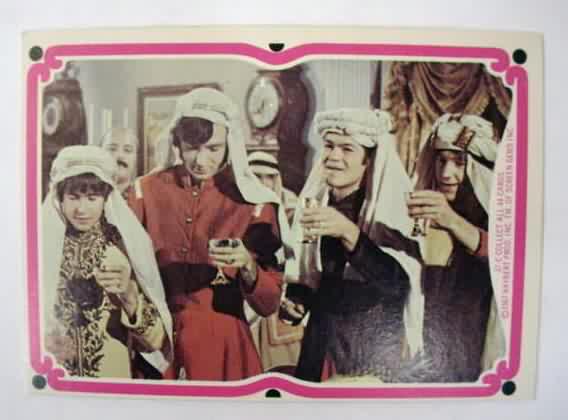 Sharm el-Sheikh. Never had much of a desire to go there, fearing shark and/or suicide attacks, plus hordes of euro trash and just plain old regular trash, left by the sides of sandy highways.
My excursions to Gran Canaria, while intriguing, produced various bouts of nausea and disgust when faced with bratwurst stands staffed by Spaniards, or self-sufficient enclaves of Norwegian-speaking pensioners.
Sadly, the Red Sea resorts and the Canary Islands are the only close opportunities for summer in the depths of winter for northern Europeans. Greece and Cyprus only start to warm up in April or so. There are charter flights leaving for Thailand or the Cape Verde Islands, but those are longer and more expensive plane rides. And the belt of land between the Canaries and the Sinai peninsula is besieged by domestic conflicts.
Here I look within myself and find an unabashed colonizer. Wouldn't it be splendid to winter in Algeria? Libya? How about Tunisia? Wouldn't it be great to covertly support Western-friendly, petroleum-exporting regimes that welcomed flocks of pasty northerners with bad haircuts and dyslexic fashion sense to bask in the sunlight of their endless summers? Wouldn't that be in our collective Western interest?
I gave into Sharm because the Estonian weather was leading the wife and I toward unhealthy thoughts. "I feel as if I am trapped in a bag," she said on one very dark and rainy December day. "And I would like to take a knife and cut my way out into the sunshine." And so after much contemplation we said yes to a tacky quick getaway to a resort on the Sinai peninsula. This probably raised some eyebrows among globe-trotting friends who prefer to take their kids to "real" places like Rwanda or Tibet for the educational experiences and bragging rights. As I have discovered though, children don't care so much about that stuff. Given a choice between an eye-opening intercultural experience and a pool with a water slide, they'll take the water slide, thanks.
That being said, Sharm
is
Egypt, the same way that Disney World
is
the United States or Cancun
is
Mexico. There is no escaping Egypt, the Egyptian national character, its honeyed foods, its overwhelming desire for tips. The first Egyptian I met was already holding my baggage when I went to pick it up, asking for money. I gave him three bucks. Which meant I didn't have any other small change for the three other guys who asked me for tips between the airport door and the door to our hotel room.
Nothing in Egypt has a real price, it seems. After years of orderly Estonian shopping, I arrived in a land where everyone is trying to take you for a ride, sometimes literally. I just happened to be standing outside my hotel when a fellow with a camel came by and picked up my two daughters and rode off with them down the block. It cost me 250 Egyptian pounds to get them back. The "official price" was 300, but he gave me a discount because I "look Egyptian." It was all in good fun, but there was a sense of extortion in the air.
Egypt was the third Muslim country I have visited after Turkey and Malaysia. I've gotten use to the headscarves, they remind me of nun's habits, except more colorful. So the women are basically nuns who can have sex. Terrific. But the Saudi ladies in full get-up baffle me. It's not that I have no idea what they look like, it's that I wonder how do they eat or drink without revealing their faces. Supposedly they come to Egypt to experience a more tolerant and open culture. Saudi Arabia has this ominous image, even in Egypt. It's right over there, and yet nobody can go over there. I'm not sure what happens to you if you accidentally get lost while snorkeling and wash up on a Saudi beach. I don't want to know, actually.
There are plenty of other nationalities in Sharm. The English were the friendliest and the most "normal," in that they would speak to you and tell you about their lives and talk about The Beatles. The Scots are affable yet indecipherable. Fortunately, having read
Kidnapped
and watched
Trainspotting
, I was able to get by. The Russians are also friendly, to each other, and seem to ignore people who do not speak Russian. Hence, the estrangement some Estonians feel toward their monolingual neighbors is not confined to this small land.
Russians also have the most fantastic sense of fashion, particularly the women. I was unaware that such apparel could even be acquired at a regular store, and was not to be solely found in sex shops. It also seemed that some Russian women enjoy complaining. I watched one scene by the pool where the woman complained and complained to her husband, who pretended to be asleep. This seemed to bother neither of them. She went on complaining, he continued to snooze. In the end, they both got up and went and had lunch, holding hands.
The number of Russian tourists in Egypt creates a challenge for other nationalities. On one hand, Russians are great fun. I watched a Russian man grasp his mate's voluptuous bikini-suspended breasts as they dove into the water together, laughing all the way, completely unashamed of their playful display of affection. On the other hand, the separation between "us and them," Russian speakers and non-Russian speakers, is annoying. Just because we may not speak the same language, doesn't mean that you have to avoid eye contact and/or sign language.
Estonians are the opposite. They are happy to speak any language to prove their resourcefulness and utter brilliance. Estonians also feel naked unless they have either a beer or some kind of telecommunications device in their hand. Our GoAdventure diving instructor took a break from scuba diving to post an update on a social networking site. The Estonian word for a wet suit is "kalipso," which confused the hell out of me. The wife's asking me for a "kalipso," and I'm looking around for Harry Belafonte to serenade us with "Jump in the Line."
Scandinavians are a mixed bunch. Danes are outgoing, friendly. Norwegians aren't. Something about the way they carry themselves makes me wonder if they secretly believe that they are the best that mankind can do. These are not only my thoughts. A Swede described Norway as a "nation of oligarchs," nouveau riche given to flaunting their oil wealth. A Dutchman opined, "they have all of our problems with one-tenth the amount of people and ten times more land."
I only heard one other American voice in Sharm, identified by the overuse of the word, "like." "And then I was like riding this camel in the desert, dude. It was, like, totally awesome!" I'm not sure how the Egyptians feel about Americans. When I went through passport control, the guy shook his head and laughed to himself, almost out of pity. "Ah, an American, an American ..." When I told a Bedouin lady that I was an American, she wrinkled her nose and frowned, as if she was about to vomit all over me. She still took my money though. We spoke Italian to each other.
I indulged myself as a tourist. An Egyptian friend even procured for me a hookah, which after a few false starts, I got the hang of, and one could see me sitting in a chair, blowing circles of smoke into the air, living it up, watching belly dancers. These are all just hazy memories now, photos from a family vacation. I stocked up on souvenirs too though. So if you see a guy zooming around Estonia wearing a checkered scarf on his head a la Arafat and blasting Egyptian Top 40 from his car speakers, don't be alarmed. It's just me.