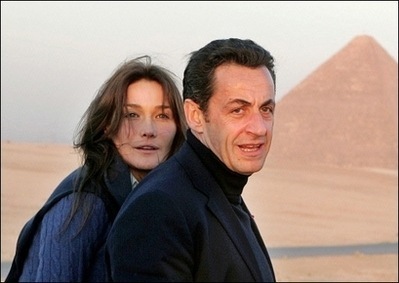 First French President Nicolas Sarkozy is estranged from his wife, Cecilia. Then they reconcile while he campaigns against Ségolène Royal. Then they divorce after he wins. The next thing you know he's holding Carla Bruni's hand at Euro Disneyland. And nobody bats an eye. Why? They're French.
Watching the French president woo his actress/songstress/Euro Disneyess has made me insanely jealous for something similarly exciting to transpire in Eesti land. Unfortunately Estonia, with its wholesome culture of family values, Uncle Milty,
sinine must valge
, and Vanilla Ninja is not France.
I tried to imagine a high profile politician plotting such a move. What would happen if Andrus Ansip left Anu Ansip for
Anu Saagim
? Or if Mart Laar ditched his family for someone younger and more artistic, like
Kerli Kõiv
? Maybe we should expect to see Jüri Pihl holding hands in a tender moment at the Kumu art museum with
Blacky
sometime soon?
But that's not to be and, I must admit, when I even think of an Estonian soap opera involving politicians and celebrities, it sort of makes me want to barf. Despite their stinky cigarettes, cheeses, and snails, French people can get away with that kind of thing. Estonians, with their sprats, hapukoor, and more hapukoor cannot.
French people are sexy. Estonian people are (mostly) cleanly. There is a difference.